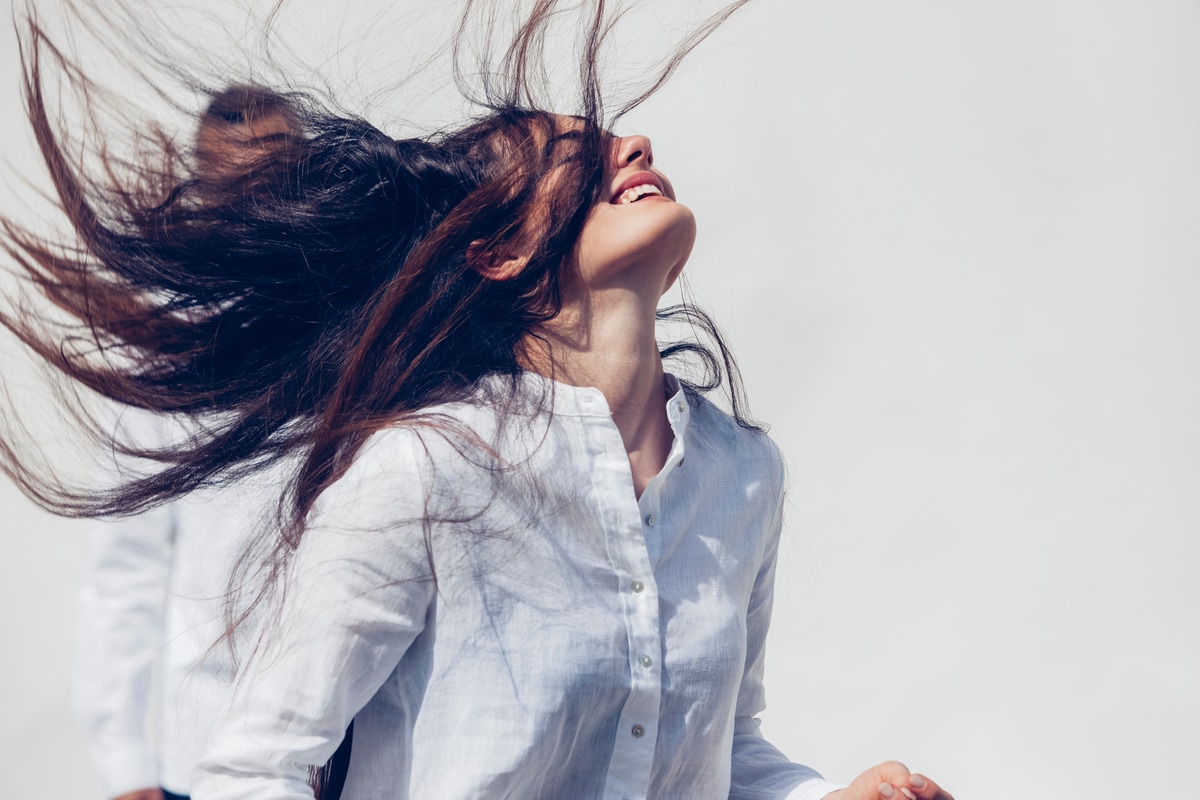 Dry, damaged hair
---
Before we examine the causes of dry hair, we should take a closer look at the hair strand itself. The inner part of a hair strand, also known as the cortex, is primarily composed of keratin and makes up 80% of the hair. It is encompassed by an outer layer known as the cuticle, which consists of fine, keratinised cells layered like roof tiles. The structure of hair from the root to the tip looks like a pine cone. The outer layer provides physical and chemical protection for the cortex from external factors like combs, UV radiation or hair clips.

Avoid heat treatment with hair straighteners or curling irons whenever possible, and use a hairdryer with heat protection. If you want to do something good for your hair, let it air dry as often as possible. You should also make sure you wash it at the right temperature. If the water is too hot, it can upset your scalp's natural balance and strain your hair lengths. Rinsing your hair with cold water after washing smooths the surface of your hair, leaving it beautiful and shiny.
Once your hair is damaged, you will begin to notice split ends. The hair ends are so dry and porous that they start to break. Moisturising conditioners and shampoos created especially for dry, damaged hair contain nourishing ingredients that improve the structure of hair and can also repair some of the split ends.
If you have split ends, make sure you use gentle cleansers on your hair; only use a small dab of shampoo, applying it to your scalp. The lather should be sufficient to cleanse the ends of your hair as you rinse out the shampoo. Opt for a mild shampoo with intensive moisturising formula and without silicone.
Treat wet hair with care; it is particularly fragile! Always use a conditioner after washing. This will detangle your hair and make it easy to comb. Treat your hair to a deep conditioning treatment that thoroughly penetrates hair and provides nourishing moisture at least every other time you wash your hair. However, watch out: you can have too much of a good thing. Over-treated hair looks lank and quickly turns greasy.
Once you have split ends, no amount of conditioning treatment can fully repair the damage. The best thing to do is get a haircut as soon as possible; otherwise, your hair could split further up the hair shaft, making your entire hairstyle look frizzy and sloppy. Getting a trim every six to eight weeks will help keep your locks lovely and healthy in the long run.