Organic cotton – gentle care for caressably soft skin
---
Let us introduce you to one of the oldest cultivated plants in the world: cotton! Cotton can do much more than add softness to your make-up remover pads or the fabric of your favourite shirt. Used in some lavera products, high quality cotton extract can also pamper your skin.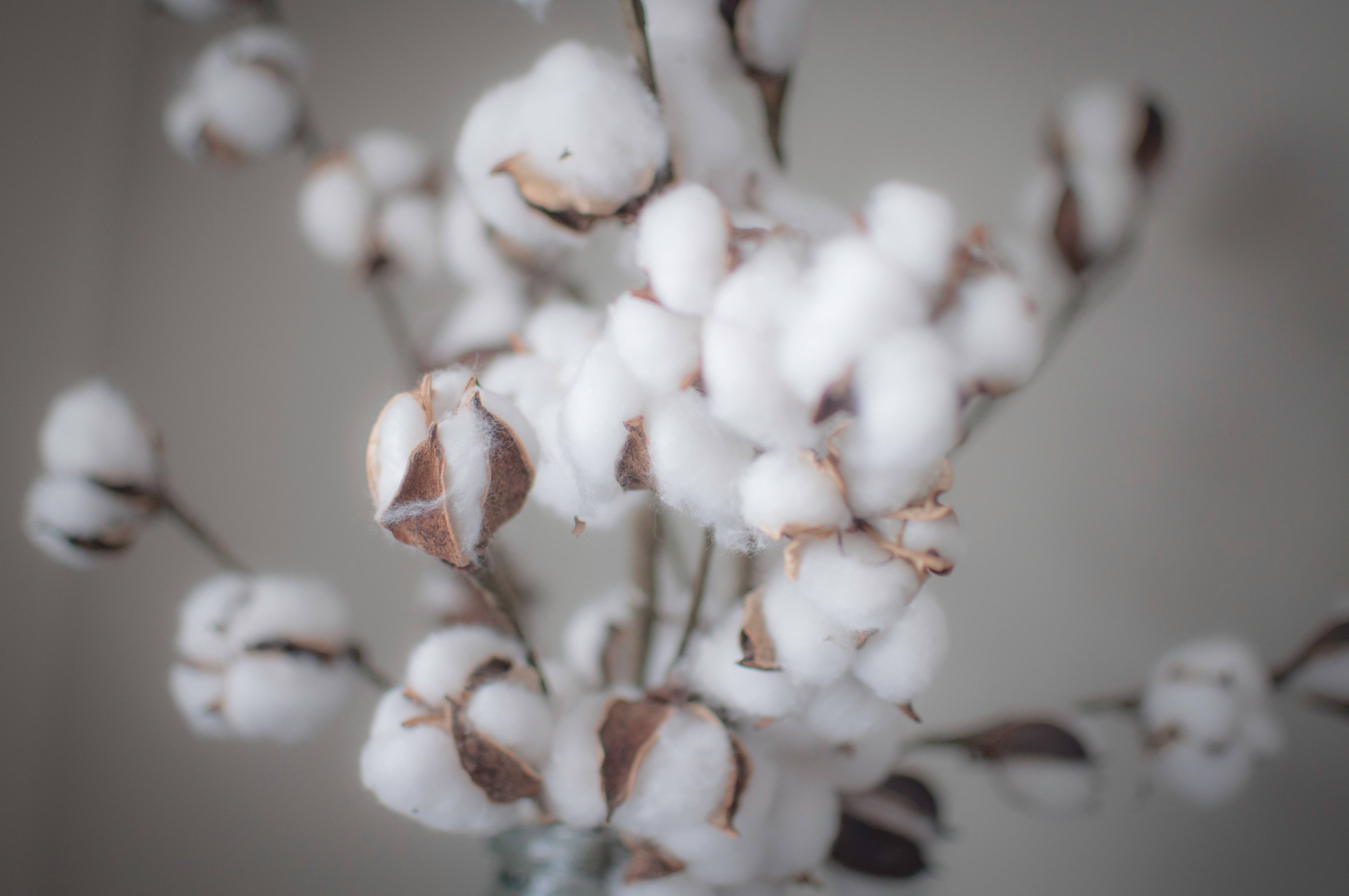 A plant conquers the world
Did you know that in India and America, cotton has been cultivated for 3,000 years? This noble raw material found its long way to Europe in historical times as the ancient Greeks and Romans imported this luxury product from the Far East. The refined and soft feel of cotton fabric was worlds apart from the sheep's wool traditionally used to make garments at the time, and it quickly became a valuable commodity. The upper classes wore costumes made from pure cotton fabric, not least because of the fine white material which projected pristine purity.
Cotton belongs to the mallow family and is native to South Africa. It is now grown in warm, dry countries on the American, Asian and African continents. The agricultural region of the US where cotton is the main crop is known as the "cotton belt". Its climate is hot, with little frost and moist soils.

Cotton is a frost-sensitive plant which can grow up to 2.5 metres high, with flowers that blossom bright yellow, pink or pure white. The seeds are surrounded by fibres which grow from their surface and contain valuable cottonseed oil and other substances. Cotton is picked by hand or harvested with special equipment.
Cotton, an invaluable raw material
What we known as "cotton" are actually the fibres that grow out from the surface of the seeds. These fluffy fibres can be spun into fine yarn by hand or using looms. Light and fine, cotton fabric has been used for centuries to produce garments across many cultures. No wonder, as the fabric conforms especially well to the skin and is both breathable and hard-wearing. With the industrial revolution of the 18th century, machines that spun cotton into yarn mechanically and in large amounts were invented that replaced the laborious traditional manual processing methods. Once cotton became suitable for mass production, the raw material saw another major rise in popularity.

Like a whisper on the skin
The mere sight of these pure white tufts instantly conveys a sensation of softness and well-being. Your skin too will welcome its caressing touch in the form of the most gentle skin care. High-quality cotton extract is used as a beautifying ingredient in selected products of lavera Naturkosmetik. This nutrient-rich plant-based ingredient pampers dry and irritated skin, leaving it soothed and protected.
Organic cotton in our products
Soft, pure and clean: In the lavera shower range, nourishing organic cotton extract supports gentle cleansing of the skin. The soothing and regenerating properties of this gentle organic plant extract benefit both normal and sensitive skin. Combined with other ingredients, it leaves the skin feeling silky smooth.