Pick the right makeup with the lavera foundation chart
---
Getting your makeup right is easy if you know how! We will show you the basics for a fresh, naturally beautiful complexion with our foundation chart. Find out how to apply your foundation properly, how to make it last longer, which concealer is right for you, and why the right skin care is the basis for any makeup!
Read more
Read less
If you have dry skin, foundation may cause additional drying, flaking or dry lines. To achieve a radiant complexion, it is important to properly prepare the skin first. Then use a moisturising foundation or a tinted day cream with an extra dose of moisture, such as our Tinted Moisturising Cream 3 in 1, which combines skin care in the form of its Q10 active ingredient complex with a hint of colour. It also contains many minerals and vitamin E. For a natural-looking complexion with just a hint of colour and well-moisturised skin.
Read more
Read less
Oily and combination skin tend to be prone to a shiny T-zone. Hyaluron Liquid Foundation by lavera has a lightweight texture which is not too 'waxy' (as this can cause excess shine), glides on easily and provides sheer coverage.
If you prefer slightly more coverage and a matte finish, opt for our Mousse Make-up which can be easily applied with your fingers.
Read more
Read less

Blemished skin is prone to pimples, which can be covered with foundation or more selectively with a cover stick. Formulated with organic witch hazel, Cover & Care Stick from lavera is particularly suitable, as it not only covers blemishes but also prevents inflammation.
A medium to high coverage foundation such as Compact Foundation is particularly suitable for covering redness and pimples. A Compact Foundation with an extra sponge is also especially handy when you are out and about, allowing easy touch-ups wherever you are.
Read more
Read less
Although it does depend on the type of makeup you are using: for example, powder is difficult to apply with your fingers, so that it is best to use a brush. But it is also a matter of personal preference: if you use a high-coverage foundation, using a damp makeup sponge will achieve a more natural and radiant finish. You can then build up the coverage to your liking.
In contrast, using a makeup brush will instantly achieve higher opacity. For a natural finish, many makeup artists favour using a tool which is readily available: their fingers. Warming the makeup with the fingers makes it easier to apply.
Read more
Read less
Important: Make sure you clean your makeup sponges and brushes regularly, as makeup residue, flakes of skin and sebum provide an ideal medium for bacterial proliferation. You should therefore clean your brushes roughly every two weeks to avoid blemishes and redness. Simply lather your makeup brush or sponge with a gentle shampoo in the palm of your hand, rinse and repeat until all makeup residue is gone. Then just gently blot the brush or sponge with a towel and let it dry.
Read more
Read less

Every heard of 'baking your makeup? This hack used by makeup artists can make your foundation and concealer last longer. The Fine Loose Mineral Powder is particularly well-suited for this purpose: apply generously to the desired area, e.g. over concealer, leave on for a few minutes and then simply brush away the excess powder. Lavera Mineral Compact Powder can also be used to mattify and set, but is better suited for on the go, as the powder is pressed.
Read more
Read less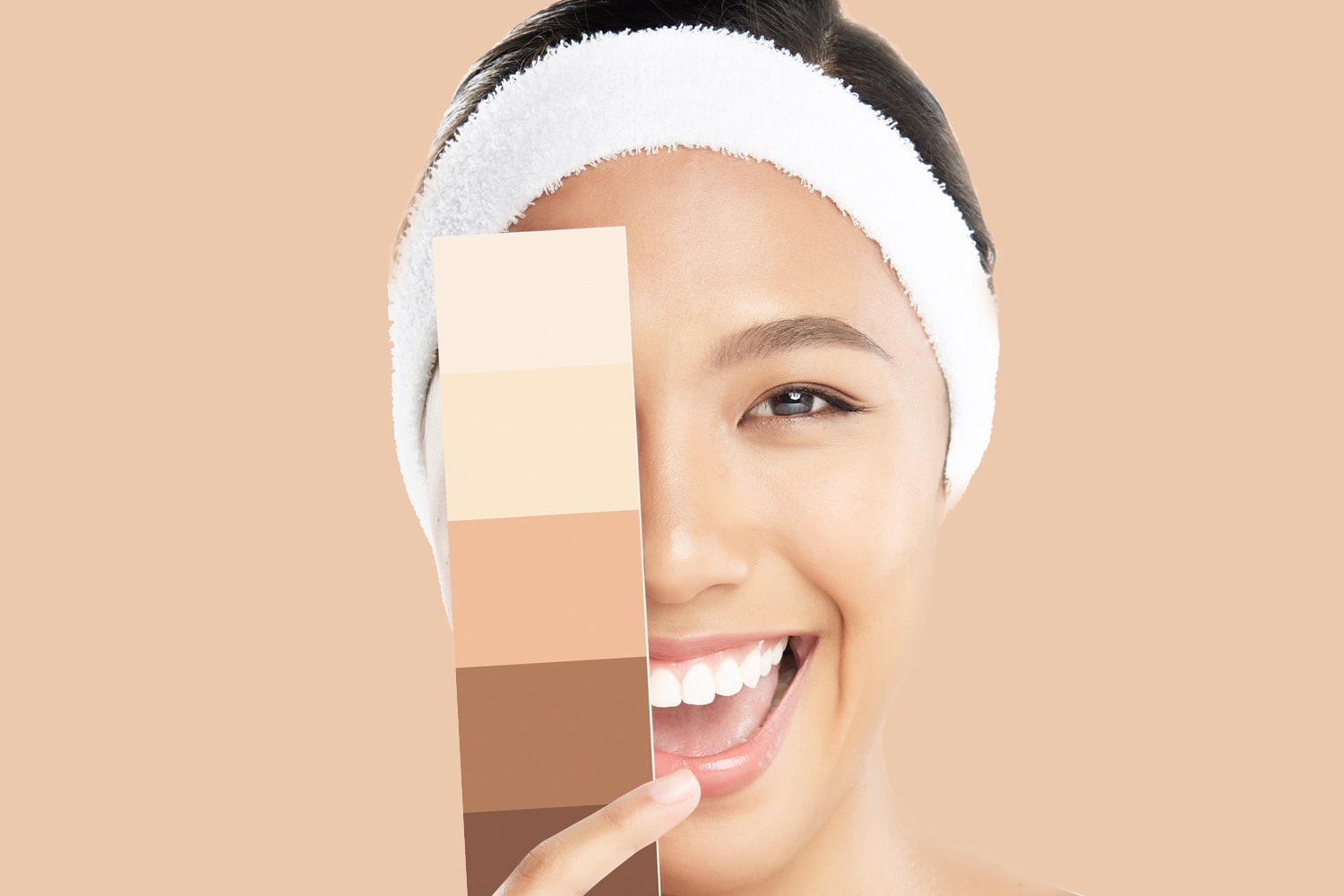 Which shade is right for your is also determined by your skin undertone. Whether you have a cool, warm or neutral undertone is easy to work out: Blue or purple wrist veins typically indicate that you have a cool undertone. Greenish veins indicate a warm undertone. In the case of neutral skin types, the veins appear blueish-green.
Read more
Read less
Still unsure? Then there is another test you can do! Hold a sheet of white paper next to your face, or wrap a white t-shirt around it. The neutral white makes it easier to identify the undertone of your skin. If your skin seems more yellowish, you have a warm undertone, if it looks more bluish, your undertone is cool.
Read more
Read less


No matter how good you are at makeup, naturally beautiful skin is the basis of a flawless complexion. Don't skimp on skin care or rely on being able to cover everything up with foundation.
We can help you find the best products for your skin type. Regardless of whether you have blemished or dry skin, the best make-up in the world is of little use if it doesn't suit your skin type or if you don't look after your skin properly. If you want to take another look at all our foundations, just scroll down a bit!
Read more
Read less