Proper care for dry skin: What you need to know
---
Is your skin a "sensitive soul"? Especially when temperatures are at their most extreme, i.e. in winter and summer, daily care for dry and sensitive skin can be a real challenge. People with this – unfortunately increasingly common – skin type tend to fret about the condition of their stressed skin. Mild, organic plant-based ingredients that do not irritate dry skin and comprehensive care formulas promise gentle natural help for dry, sensitive skin. We'll tell you what to look out for in terms of cleansing and nourishment, on this page.
Read more
Read less
These are signs of dry skin
Dry skin often indicates reduced activity in the sebaceous glands. It is lacking both moisture and oil. The unpleasant consequences: The function of the skin's protective acid mantle is disrupted. The external signs of this lack of function may be flaky and rough patches of skin (e.g. on the cheeks), partial redness and even fine cracks on the skin. In many cases, dry skin itches unpleasantly and tightens. The early formation of wrinkles (caused by dryness) is possibly one of the unwanted results of dry and damaged skin.
Read more
Read less


Mild, pampering products with as low an alcohol percentage as possible should be used on dry skin. First and foremost, the lipid and moisture balance must be restored, and your skin supplied with sufficient oils. 6 Comprehensive 6, protective and enriching nourishing creams are best suited to dry and sensitive skin. Learn what this means for the individual steps in your daily beauty regime in the next section.
Proper facial care for dry and sensitive skin
Dry skin requires extra-mild nourishment that doesn't dry out the skin and offers especially long-lasting moisture. Your daily beauty routine should therefore focus on soothing and protecting the skin. Facial care products for dry and demanding skin are tasked with supporting or building up the skin's protective mantle and reducing any tightness.
Your day cream should ideally fill up the empty moisture deposits in your skin in the morning, e.g. with the help of valuable substances like hyaluronic acid. Its skin protection, moisture preserving, and skin tightening properties can counteract dryness caused by ageing in particular. A finely balanced formula of valuable organic oils and fats on the one hand and valuable moisturising factors on the other, is also the ideal care solution for night cream. Moisturising serums or facial oils are a useful supplement when caring for dry skin.
Wrinkles caused by dryness (as a result of age) often develop around the eyes and lips. An intensely nourishing eye cream can therefore be patted into your skin in the morning and the evening as the last step in your daily beauty regime .
Read more
Read less
Dry and sensitive skin needs especially gentle care, as it can react significantly more sensitively to detergent substances. Active ingredients that complement one another with added moisturisers, like those lavera Naturkosmetik offers you, are the ideal natural care solution. To thoroughly remove dirt particles and make-up residues from your damaged skin, it is best to use a mild cleansing milk. They provide moisture and nourishment from the very first time you cleanse.

Top tip: Take care not to wash your face with water that is too hot as it will stress your dry skin even more. For a clear complexion, you can then use a mild toner that gently clarifies your skin so that it is perfectly prepared for nourishment.
Beauty tips for a beautiful complexion
For a little extra pampering to keep you going, we recommend applying a soothing and moisturising, purifying mask once or twice a week when you have some peace and quiet. Have you heard these two tricks before?
A relaxing beauty bath is a real win-win situation for your skin and senses! The warm steam opens up your pores and the valuable plant-based ingredients in the purifying mask can penetrate your skin.
Have you ever tried leaving one of our cream masks on overnight? When applied thinly, the valuable ingredients have enough time to be absorbed into your skin and provide it with moisture and oils during the nightly regeneration phase.
Read more
Read less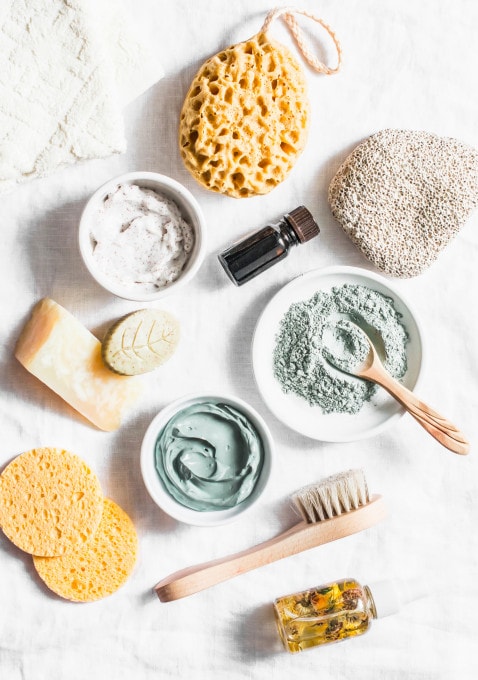 Morning:
Use a mild cleansing milk that has an enriching effect
If necessary, use a mild toner
A light, moisturising cream provides your skin with sufficient nourishment for the day
Sensitive, dry areas surrounding the eyes can also be looked after with an eye cream.
Evening:
Use cleansing milk/cream with nourishing, enriching properties to remove dirt, sebum and make-up from the skin
Mild toner for additional cleansing
Comprehensive, enriching night cream for skin regeneration
Eye care for wrinkles caused by dryness
Read more
Read less
lavera Naturkosmetik Make-up Tips
Experience the latest trends with lavera Naturkosmetik and fall in love with our colour cosmetics. Get the hottest make-up tips and inspiration here all year round. We will show you step by step how to highlight your natural beauty.
Read more
Read less