lavera facial care for normal skin
---
Is your skin fine-pored, soft and unblemished? You should consider yourself very lucky, as your skin belongs to an elite group of normal skin types. What does mean? Clearly, the protective layer of your skin is happily balanced, meaning your daily beauty regime is quite straightforward.
Read more
Read less
Happy skin – the signs of normal skin
Normal skin is a gift from nature! People with normal skin have little problem with their skin on a daily basis. It is in an ideal condition, so to speak, meaning it is healthy and the skin's protective barrier remains intact. The oil and moisture balance is completely even 1. Normal skin is not too greasy and not too dry, appears vibrant and rosy, is smooth with fine pores and not too sensitive. Normal skin only rarely has to deal with blemishes.
Read more
Read less


Normal skin is less prone to blemishing. It is not too sensitive, reacts less to external and internal irritations and is less demanding. However, it doesn't get a free pass... Dry air in warm rooms or the wrong care habits can still cause your skin stress. Unwanted stress spots or a pale complexion will make you get up on the wrong side of the bed.

Even with normal skin, you should pay attention to which products you use as part of your beauty regime. To be honest, it includes a little more than just day cream ... Because normal skin, like all other skin types, needs finely tuned beauty care so that your skin remains as happy as it is now for a long time to come!
Beauty tip: Get in the tub!
You should apply a soothing, moisturising purifying mask once or twice a week and relax. A spa bath will make your face mask even more effective. The warm steam opens up your pores and the valuable plant-based ingredients in the purifying mask can penetrate your skin.
Read more
Read less
To keep your normal skin as fine-pored, healthy and rosy as it is now, you should opt for mild cleansing products. Especially if you wear make-up every day. Foundation, powder and concealer can clog your pores. The unwelcome results: Your skin is prevented from breathing and impurities can develop. We therefore recommend using a mild cleansing lotion or a smooth cleansing gel to remove dirt and sebum from your skin in the morning and the evening as part of your daily care routine.
A mild toner clarifies the pores and tackles any residues on your face without drying out your skin too much. It is better to avoid cleansing products with a high alcohol content that may cause your skin unnecessary stress. Water that is too hot also stresses your skin too much and can cause it to dry out more quickly.
A little refreshment: Keep the water a little cooler in the morning – this encourages blood flow, and, alongside a boost of freshness, it gives you a soft and healthy complexion in no time at all.
Beauty tip for a beautiful complexion
We recommend using the clarifying exfoliator with jojoba exfoliating particles (without microplastics) to cleanse your pores. Use it 1–2 times a week to keep your complexion fresh and rosy. When you use it, make sure not to rub the exfoliating particles into your skin too roughly.
Read more
Read less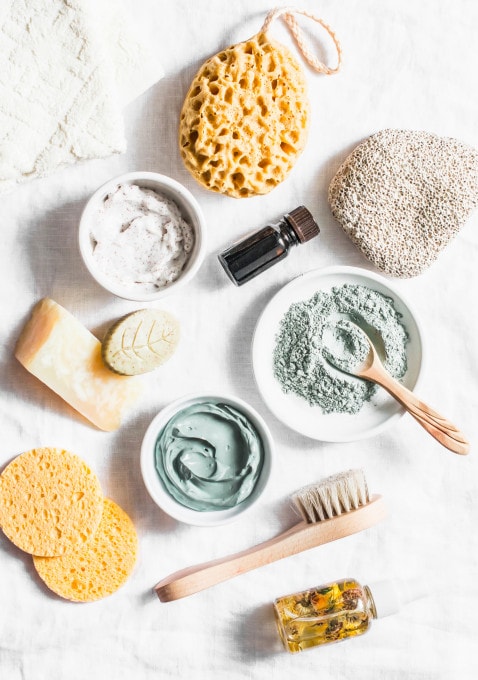 Morning:
Gently cleanse your skin with a cleansing gel or foam
Use a mild toner if necessary
Apply a balancing, moisturising cream
Daytime:
Lightly mattify a shiny complexion using a loose powder or blotting paper (matting paper).
Evening:
Gently cleanse your skin with a cleansing gel or foam
Clarifying toner removes grease and dirt from the pores
Apply a balancing, moisturising night cream
Apply a purifying or moisturising mask 1-2 times a week
Read more
Read less
lavera Naturkosmetik Make-up Tips
Experience the latest trends with lavera Naturkosmetik and fall in love with our colour cosmetics. Get the hottest make-up tips and inspiration here all year round. We will show you step by step how to highlight your natural beauty.
Read more
Read less